Art
It was due to the encouragement he received from artist Pamela Leach that Dr. Mills first picked up a paintbrush in 1993. Although he had no formal training, it wasn't long before he was painting several canvases a week. His paintings have been recognized for the bold use of color and an energy that seems to both embrace and challenge the viewer. In 1994 he had his first show, in a gallery in Stamford, Connecticut. Visitors to the gallery encouraged him to exhibit at the Javits Center in New York at the 1995 Design Show.
As interest in Dr. Mills' paintings grew, they were shown in Coral Gables, Florida in 1996 and at the Design Exchange in Toronto in 1997. A number of his paintings are now in private collections in Canada, the United States, and Europe.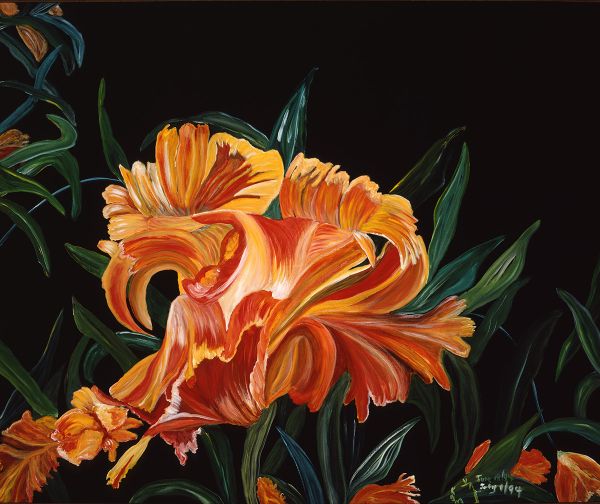 © Kenneth G. Mills Foundation, Orange Fire. Acrylic on canvas, 40 x 48 inches.
© Kenneth G. Mills Foundation, Spring Promise.  Acrylic on canvas, 30 x 36 inches.
To describe his approach to painting, Dr. Mills once said: "Once I start, I let the painting paint itself. The blank canvas is approached with expectation, and I wait to see what is to be revealed – not by stepping back to look at it while it is happening and not necessarily by thinking about it or critiquing it. The value of art is to stop your thought; thus, the great enjoyment is derived from being totally one with the creative act. What is important is to have art without the '-tist,' or art with the patina of wonder. Art is living stopped for a moment of wonder."
Kenneth Mills' skillful, innovative use of acrylics in land­scapes and florals drew many admirers, including artist Timothy Phillips, who was a student of Salvador Dalí, Pietro Annigoni, and Augustus John. His appreciation is evident by his words: "Dr. Mills' paintings are full of metaphysical hints, hidden there the way Dali hides things. I love his paintings!"
Experience the Full Breadth of Dr. Mills' Creative Genius